Automatic Hydraulic Drilling Machine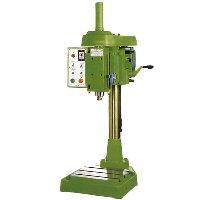 Hydraulic Drilling Machine
Product ID: DU12-25V, DU12-25
Features:
Automatic, labor saving equipment: several machines can be operated by one person.
Cycle of start --> Rapid approach --> Work feed --> Rapid return --> Stop.
All the machines shown on this ad. are available with multiple spindle heads that will increase the efficiency by 5-10 times.
It can be settled in any direction and position to reduce manufacturing cost and make quality unique.
Can be assembled with automatic tapping machines for special work projects (Accomplishines boring and tapping at one station).
See more complete detail
Item No.
-
DU12-25V
DU12-25
Drilling Capacity
mm
CastironØ30 ; SteelØ25
CastironØ30 ; SteelØ25
Stroke
mm
120
120
Thrust
kgs
685
685
Taper of Spindle
mm
MT-3(MT-4 Special)
MT-3(MT-4 Special)
50Hz Spindle Speed
r.p.m.
6P(280, 430, 665, 980)
4P(420, 660, 1010, 1500)
6P(280, 430, 665, 980)
4P(420, 660, 1010, 1500)
60Hz Spindle Speed
r.p.m.
6P(280, 430, 665, 980)
4P(500, 780, 1200, 1780)
6P(280, 430, 665, 980)
4P(500, 780, 1200, 1780)
Motor Rating
power
3 Ø x 0.75KW x 6P(1.5KW x 4P Optional)
3 Ø x 0.75KW x 6P(1.5KW x 4P Optional)
Working Air Pressurd
kg/cm 2
20-25 kg/cm 2
20-25 kg/cm 2
Rapid Approch
m/min
2.0
2.0
Weight (Approx)
kgw
285
90